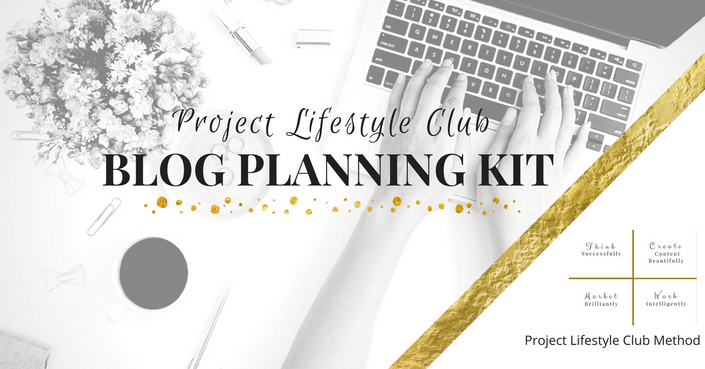 Project Lifestyle Club Blog Planning Kit
Everything You Need To Create An Editorial Calendar & Blog Planner That You Will Stick To Like Glue. (Worksheets, Trackers and Video Tutorials & Tips)
At Last! A Blog Planning Kit That Comes With Full Instructions
My first encounter with a blog planning kit was a downloadable giant bundle of worksheets found on ETSY.
I remember being super excited about the prospect of getting organised about my blogging, tracking all my stats and charting my progress.
I was looking forward to preparing each blog post like a pro and putting system in place that worked like a charm, relieved all the stress and helped me devise a simple way to plan and organize my content in a structured and professional way.

What happened next, is what I have found to be quite a common problem.
We love downloads don't we?
I mean I've downloaded worksheets, trackers and all sorts of templates over the years that never seemed to quite "fit my particular needs."
I thought to myself "Am I really that unusual here?"
I had all these beautifully designed worksheets and trackers downloaded, printed and ready to fill in, so off I went and got stuck in.
The first worksheet was a breeze.
The second was a little more challenging.
The third was ... well perplexing as it asked "what giveaways I had this month?"
(Hmmm what exactly were giveaways?)
Oh well, only another 35 trackers to go!
By worksheet number 9 over 2 and 1/2 hours had gone by and there I was still filling in worksheets and trackers instead of strategically planning my blogging to be more effective at generating leads for my business that a high chance of turning into sales.
Now for the record, the worksheets were GREAT.
They looked great, they contained good information, they were easy to download and print and they filed perfectly in my folder.
Just one teeny weeny problem.
They came with no instructions or tried and tested strategy on how to use them effectively to grow my business.
So here's my version.
Introducing the Project Lifestyle Club Blog Planning Kit (The One That Come With Instructions)

Worksheets & Trackers Plus How To Use Them Effectively
If you are looking to grow your business online then your content & marketing should do 80% or more of the heavy lifting for you.
Blogging has the power to completely transform your business from drab to fab.
And your Project Lifestyle Club Blog Planning Kit is the right place to start creating a business model that can leverage the awesome power of the search engines & social media to create a target audience for your brand.
Let's Take A Look At What You'll Learn How To Do Inside The Blog Planning Kit training Modules:-
I'm a big believer in time spent planning is never wasted
But it's also true that if you spend all your time getting ready to get ready you'll miss the blogging party all together.
Here's the absolute best & most innovative way to go about it ...
How To Save Yourself A Ton Of Time By Branding Your Business From The Get-Go
Within the introductory section of your Blog Planning Kit is a step-by-step tutorial on how to create a brand mood board for your business.
This is a blog planning step for today's savvy entrepreneurs that will save you a ton of wasted time & effort as your blogging gets underway.
When you know your style, colours, textures & keywords everything you create visually is 100 x easier.ob. Give it the respect, time and dedication it deserves and it will become the most valuable asset your business owns.
Free Complimentary Course Included ...
How To Create An Editorial Calendar For Your Business
Everything You Need To Know About Creating An Editorial Calendar For Your Business (The Easy Way)
If You Were Wondering Where Great Content + Growth For Your Business Combine To Generate More Traffic, Leads And Sales For Your Business
Look no further than your very own Wordpress blog.
Do you ever ....
Find yourself frustrated about how much effort you are putting into your blog for little or no reward?
Are you confused about what types of blog posts work best for your business growth, lead generation and the search engines?
Do you ever just sit there staring at your computer and wonder what the heck to blog about?
Well, I've got good news for you.
How about a road-map to follow in the form of an Editorial Calendar to help you?
Works perfectly with the Project Lifestyle Club Blog Planning Kit ;-)
What Are You Selling And Who To?
How to get crystal clear about what you are selling and who to for the most essential elements to drive blogging for your business forward with an effective strategy aimed at building your email list, increasing lead generation and creating an effective route to market for your products and service via your blog.

When you know exactly who your are blogging for,
what their problems are
and how your products and services offer the best solution to their problems,
your sales will automatically increase.
Learn how to narrow your focus and define exactly who your target market really is in this essential module.
(Worksheets included)
How To Create Your Content Buckets
In this module you'll learn how to think differently to everyone else when it comes to designing and developing your blog content by thinking like a publisher.
This module will give you total clarity about your blog topics and an effective way to organize your blog topics and sub-topics.
Add
Structure
Strategy
& Uniqueness
That Will Help
Your blog
stand out from the crowd.
How To Create Unlimited Blog Post Ideas The Easy Way
Blogging for any business should be strategic. If you are a vegetarian, no amount of meat recipes is going to appeal to me. Within your niche I guarantee very few people are blogging with the right strategy, or creating effective content that leads to their products and services.

So in this important module I'm sharing with you all the best types of blog posts to create and how to find unlimited ideas to blog about that are super targeted to your target market.
It's not effective to simply "create content."
You need to focus on creating content
that people are
actively searching for on the search engines.
How To Think Like Simon Cowell And Avoid The Number One Mistake Most Bloggers Make
In this final module, we'll be looking at which statistics and reports you need to track to monitor growth and why blogging for your business is no field of dreams scenario.
(worksheets & trackers included)
Data
Mining
Is
Where
You'll
Find
Gold
Your Instructor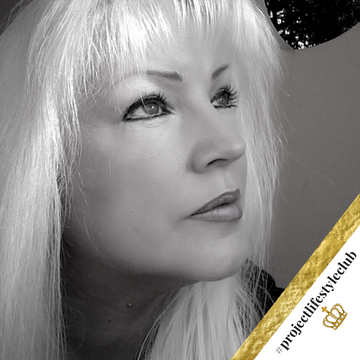 I'm Diane Cossie & I Specialize In Blogging, Facebook and Developing Digital Sales & Marketing Funnels for Small Business Owners and Entrepreneurs. I ran a traditional bricks and mortar business for 15 years before transitioning to the online world when my first Ebook became recommended reading by a National Newspaper. Since then I've studied with some of the top social media influencers in the world and blogged my way to over a £1,000,000 in sales revenue in the last few years.

Course Curriculum
Welcome
Available in days
days after you enroll
How To Create A Brand Mood Board For Your Business
Available in days
days after you enroll
How To Create An Editorial Calendar For Your Business (complimentary to this course)
Available in days
days after you enroll
Frequently Asked Questions
When does the course start and finish?
The course starts now and never ends! It is a completely self-paced online course - you decide when you start and when you finish.
How long do I have access to the course?
How does lifetime access sound? After enrolling, you have unlimited access to this course for as long as you like - across any and all devices you own.
What if I am unhappy with the course?
We would never want you to be unhappy! If you are unsatisfied with your purchase, contact us in the first 30 days and we will give you a full refund provided you have put into practice the information provided.
How long have you been blogging?
I've been blogging for business for 10 years now. Included in this Blog Planning Kit are all my latest tips, strategies and best practices for you to follow.
Are Worksheets & Trackers Included?
Yes. All worksheets and trackers are included with the Blog Planning Kit plus a whole host of tips on how to use them.